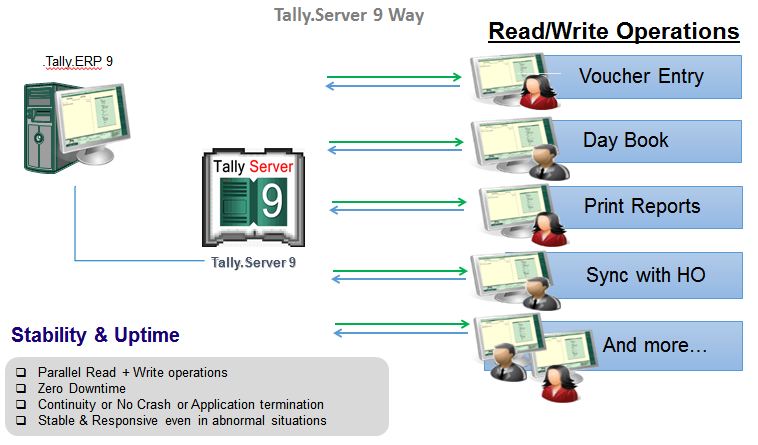 Process Opimization
In organizations, where large users are connected to the server and access data, it is highly impractical for an administrator to monitor the users as to who is currently logged in or track their activities.
Tally.Server 9 provides comprehensive monitoring capabilities to track, monitor user activities /sessions and even disconnect users, if required. This function also assists the administrators to analyse tasks which are time consuming or blocks the system performance.
Tally.Server 9 is designed to offer scalability to operate in a growing multiuser environment. It gives the flexibility to add as many users without compromising performance.
It has the ability to provide both upward scale with thousands of users and millions of transactions and downward scale for one user with some daily transactions.
Features
Allows to track User activities and sessions
Provides dedicated Admin Console to manage users and other configurations
Helps to configure the data server, license server and monitor the users.
Ability to open multiple companies at the same time
The server components now absorb the load and intelligently manage the system.
Ability to handle multiple entries posted by users simultaneously
Benefits
Better user management and control
Analyse patterns of user access
View real-time information on usage of the system
Identify time consuming tasks and thereby optimise the user's productivity
Provides capability to add more than 100 users without impacting the performance
Server 9 has the ability to scale up to cater to the additional users
Provides ability to handle peak loads during audits or peak seasonal business.
Provides flexibility to install Data Server with License Server on one system and management con-sole on another system.
Scenarios
Consider there are 100 of users are connected, its difficult for an administrator to manage the data access and also monitoring the users, now with Tally.Server 9 admin console data administration and user management can be done with ease.
Consider a growing business with 100-500 employees and with a growing number of transactions, the performance of Tally.ERP 9 will be unaffected with the additional load.